If this is the same version of
Romeo and Juliet
(1988) as was posted by HugeRightArm in VEF (and there is every reason to believe that that is the case), this video is out-of-sync in a major -- indeed, a ridiculously major -- way. Just about an even 10 seconds-worth (after the intro (the 17 seconds of the adultdvd "splash" advertising)) -
i.e.
a full 10,000 ms. ("minus").
That off-set is theoretically correctable in certain video players (
i.e.
, (temporarily) correctable -- as-the-video-is-playing). However, while I was able to correct it and have it play properly in vlc, on my pc it wouldn't correct properly at all in mpclassic.
Since I'm not fond of files which are o-o-s in any event, I converted this wmv file to avi, as a precursor to "permanently" correcting the sync issue. In so converting, I downconverted the size of the video somewhat (since it seemed overly-large, given the video quality); I then cut out the splash, and re-sync-ed it.
The thumbnails of this effort (which I named "Romeo and Juliet (1988) [v. 2]") follow here: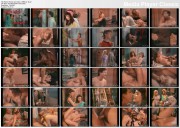 On another board there was posted an avi version of the flic, but that avi file was also out-of-sync (though in a much less major way (and in the opposite direction, curiously enough)). I've also re-sync-ed that version (which I've named "Romeo and Juliet (1988)"), and the thumbnails for that version follow here: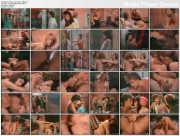 This version is slightly smaller than "Romeo and Juliet (1988) [v. 2]", but I perceive no difference in video quality between the two. Indeed, I do not perceive any difference in the video quality between these and the original wmv file, either. You can judge for yourselves, if you wish, by downloading the following file, which contains comparable clips from all three versions:
(@ 44 Mb, no password):
*** dead links removed
Apart from what I've written so far, there's nothing further to report of any note, except two things:
First, for some reason "Romeo and Juliet (1988) [v. 2]" plays funky (or at times funky) in vlc (again, vlc as it sits today on my main pc). It plays fine in WMPlayer and mpclassic, but it tends to lag in vlc.

Second, when I converted the wmv to avi, I set the audio component at 64/44 (mp3 stereo), to approximate the audio in the wmv file. In the other avi file (the one which I grabbed as an avi and then re-sync-ed - i.e., "Romeo and Juliet (1988)") the audio was 128/44 (mp3 stereo), and I didn't alter that (even though that avi is itself likely a conversion from the self-same wmv file also, and hence that avi's audio was likely "over-sized" when I grabbed it.)

Thirdly (and of unknown importance), the frame width/height differ between the two (see thumbs, and below).
[ All things considered (if you want my advice), if I were you, I'd just download "Romeo and Juliet (1988)". ]
The links for the two avi files follow below. They both are password protected.
Password
:
"
Romeo and Juliet (1988) [v. 2]
" (@ 800 mB):
*** dead links removed
"
Romeo and Juliet (1988)
" (@ 719 mB):
*** dead links removed
Oh - the one final thing to mention is that this is a pretty funny flic, with some fairly hot scenes in it as well. That's why it was worth the effort to make the changes, do the uploads, and compose this post.
Share and enjoy!
Required Stats
:
Romeo and Juliet (1988)
:
560 x 400
1h25m04s
718 mB
avi
Romeo and Juliet (1988) [v.2]
:
720 x 480
1h25m14s
781 mB
avi